14/01/2015
For FREE members : 14 January 2015 :
Nifty 8400PE traded from 107 to 169 !! No change in view.  From last two days it was clearly mentioned to BUY 8400PE when nifty trades in  selling zone i.e 8325 -8365 with SL above 8370 on CL basis. Closing below 8240 make it more weak and closing above 8370/8450 will lead to 8800 in Feb.2015 as per Nifty spot butterfly pattern. Traders can reverse their position after 8370 and next very strong resistance would be  8450. Trade as per intraday level given in nifty future. Major support levels on closing basis are 8070-7950-7925-7818 and major resistance levels on the closing basis are 8327-8365-8405- 8450- 8620-8650-8810.
Previous real time live calls at : http://www.tradefire.co.in/live-calls-2/?chat-show-logs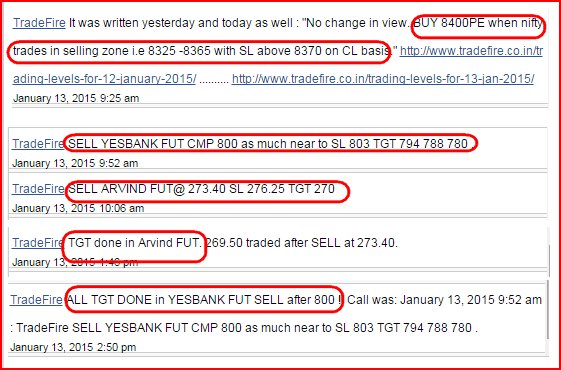 Registration is FREE !!
Trade as per today's intra levels.. As per your subscription level you can see the content.
Premium members get all futures levels and important instructions so they can trade in other scrips as well !! 
[level-1]
[/level-1]
For premium members : 14 January 2015 :
[level-2] Check your email. [/level-2]
[trickspanda-login-form]